69DB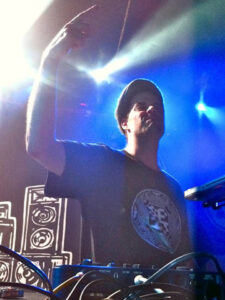 //BIOGRAPHIE:
Adolescent, connaissant les soirées acid house illégales de la fin des années 80, 69db a été inspiré pour devenir producteur de musique dance. Étant certain de sa direction, il s'est rendu dans le métro de Londres, le métro de Paris et le U-Bahn de Berlin pour financer ses premières expériences dans la musique électronique et a échangé sa batterie contre un Roland 303 et un synthétiseur EDP Wasp.
Membre du Spiral Tribe Sound System à partir de 1991 et co-fondateur du studio original SP23, 69db a contribué à pousser une scène de musique de danse naissante au-delà des limites de la production de pistes et du DJing et dans le territoire inexploré de la musique improvisée en direct.

Embrassant des traditions aussi diverses que le jazz freeform, le dub, la house, le funk, le hard tek et les rythmes tribaux bruts, 69db a constamment établi de nouveaux standards de performance live. Passant de style après style et de collaboration après collaboration, la seule constante a été sa croyance en l'énergie transformationnelle de la musique.
Musicien live de bout en bout, il a sorti des morceaux sous Spiral Tribe, SP23, R-ZAC et Liveset Dub sur des labels tels que Big Life, Drop Bass Network, Force inc, Rabbit City, Labworks, Acid Orange, Expressillon et Trax Records Chicago . Aujourd'hui, ses performances live tissent des fils de spiritualité et de grain urbain brut dans des moments fluides d'expérience musicale.
//BIOGRAPHY:
As a teenager, experiencing the illegal acid house parties of the late 80s, 69db was inspired to become a dance music producer. Being certain of his direction, he busked the London Tube, Paris Metro and Berlin U-Bahn to finance his early experiments in electronic music and exchanged his drum kit for a Roland 303 and an EDP Wasp synthesiser.

A member of the Spiral Tribe Sound System from 1991 onwards, and co-founder of the original SP23 studio, 69db helped push a nascent dance music scene beyond the limits of track production and DJing and into the unexplored territory of live improvised music.
Embracing traditions as diverse as freeform jazz, dub, house, funk, hard tek and raw tribal rhythms, 69db has consistently set new standards of live performance. Switching up into style after style and collaboration after collaboration, the one constant throughout has been his belief in the transformational energy of music.
A live musician through and through, he has released tracks under Spiral Tribe, SP23, R-ZAC and Liveset Dub on labels such as Big Life, Drop Bass Network, Force inc, Rabbit City, Labworks, Acid Orange, Expressillon and Trax Records Chicago. Today, his live performances weave threads of spirituality and raw urban grit together into fluid moments of musical experience.
Sorry, there was a YouTube error.
CONTACT BOOKING / Aurore